Essentials of Management Consulting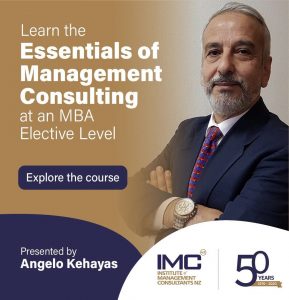 Elevate your skills and take your consulting career to the next level, with this MBA Elective Level Course.
An 8-week facilitated online course.
Presented by Angelo Kehayas, an accredited Master Leadership, Performance and Business Coach (MC). The Essentials of Management Consulting (EMC) course will give you the confidence to succeed in consulting. It gives participants a combination of skills, knowledge, experience and ability to bridge the gap between line management and management consulting.
The EMC Course is based on and encompasses the ICMCI Common Body of Knowledge (BoK) and is endorsed by the Institutes of Management Consultants New Zealand (IMCNZ) and Australia.
Course Objectives
To expose Consultants to internationally benchmarked best practice

To enhance the skills of professionals who are already consulting but who have never attended a formal course in Management Consulting

To develop the knowledge and skills required to prepare functional/technical experts for Management Consulting

To introduce aspiring Management Consultants to the principles and process of Management Consulting.
Course Outline
This is a facilitated 8-10 week online course with content equivalent to an MBA elective. The course is presented as a blend of fortnightly live facilitated sessions and online self-paced modules.  Valuable current content tailored to the New Zealand market is included.
An Introduction to terms, history and definitions
A detailed overview of the competency framework, including the development of methodologies, client engagement, learning, innovation, client interaction and the difference between creativity and innovation
Recent trends in management consulting, including the rise of the coach/consultant and the demands from clients for increased value and proof of delivery
Consulting on the cusp of disruption
Characteristics of a Management Consultant
Key ethical principles and ethical dilemma resolution
Client roles and expectations
Specific means to transfer knowledge to clients
Consulting lifecycle
Opportunity management: types of opportunity, approaching prospects
Opportunity qualification: approach to a qualified opportunity
Preliminary analysis (diagnosis/design)
Estimating effort and cost
Pricing decisions and strategies
Planning and developing the proposal
Closing the sale: contracting, execution, planning, staying on the cutting edge
Research and data collection: analysis/synthesis
Conclusions and recommendations
Why projects succeed and fail
Engagement management, procuring, monitoring and evaluation
Reporting: conclusion and recommendations
Specific attributes of service excellence
Securing follow on work and ensuring client satisfaction and referrals.
Who should attend?
Those who require the skills for their daily operations
Management Consultants who are new to the industry
Contractors who want more specific Management Consulting training
People looking at moving into Consulting
Those who make decisions on Consulting and or interact regularly with consultants
Pricing
Early bird pricing
IMC Australia member rate NZ$1380 no GST

IMCNZ member rate NZ$1380 incl GST

Non member rate NZ$1595 incl GST

Two or more attendees from the same organisation NZ$1380 incl GST each
Standard course pricing
IMC Australia member rate NZ$1595 no GST

IMCNZ member rate NZ$1595 incl GST

Non member rate NZ$1845 incl GST

Two or more attendees from the same organisation NZ$1595 incl GST each
Course Facilitator
Angelo Kehayas
Recently awarded the designation of Academic Fellow of the International Council of Management Consulting Institutes (www.ICMCI.org), Angelo is an International Coach and a Fellow and Certified Member (CMC) of the Institute of Management Consultants and Master Coaches of South Africa. He has extensive management, IT, consulting, facilitation, training, coaching, change and programme management experience in large and small organisations. Angelo has also served at executive level in several corporations along with founding numerous ventures.
Angelo is the Past President and Executive Director of the IMCSA and has been actively involved with the setting of standards in the profession internationally for 30 years. He is a past Secretary and Vice Chair of the ICMCI, and has chaired the Professional Standards and Quality